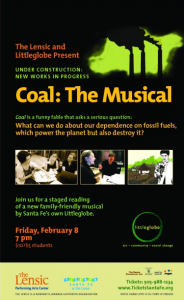 "Coal" a musical by Molly Sturgis and Little Globe was at the Lensic Theater in Santa Fe last night. It is still a work in progress, but was read and sung with live music in front of a large crowd. As a work of art it succeeded in evoking the deep mysteries of life and the living world and our connection to it. At times I felt like I was participating in a ceremony rather than a performance. It touched what  is moved in me to care for this living earth and our many lives.
The musical is meant to spark local groups and individuals to continue the conversation about climate change and our response to it.  In Molly's words: "COAL is a creative social change endeavor of national scope. Using the musical —optimistic and uniquely American — COAL invites us into the paradox of our fossil fuel-based society, and ignites the audience for action."
Throughout the show as well as the website, our indivisible connections to one another, people to people and to all the other inhabitants past, present and future of this earth are stressed. A central character is the weaver. The rending of the weaving a central theme, as well as the need to re-knit what has been rent. "Stitch by stitch life's a cinch.

I was particularly gratified to hear the refrains about life as exchange and "breathe in, breathe out." It reminded me of the living systems principles on the patternmind website. It is always a joy to experience art animating words and ideas so that it engages or hearts, minds, and hands to action.
Look for live performances later this year or early in 2014. Go to the website and see how you can get involved.
Share this post!